Using X11 Applications From A PC

In order to run graphical Linux and Unix applications from home, you need to have a working X11 server installed on your PC. Linux and Mac OSX both include an X11 server, Windows does not. However, a previously commercial X11 server, X-Deep/32, has recently been released as Freeware. Using it along with Putty, one can successfully using X11 applications from home or residence.

The following instructions detail how one can install and use the X-Deep/32 X server. If you have any questions, please direct them to linux@caslab.queensu.ca.


Step One: Download and Install X-Deep/32
X-Deep/32 is available on CASLab
here.
It uses a standard Windows installer, simply download it and double-click to install. When installation is finished, launch the program by clicking on the icon:

Step Two: Configuring X-Deep/32
X-Deep/32 requires configuration before it is usable with CASLab. Launching the application for the first time will bring up the following dialog: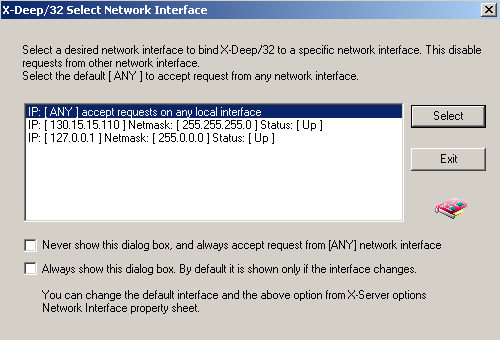 Select the first option, make sure that that the bottom check boxes are both de-selected and click the "Select" button. Now, click on the XServer taskbar item:

This will bring up the main X-Deep/32 window. Select "Edit -> X-Server Options"
Choose the "Window Modes" tab, then select "Multiple MS Window Mode" and uncheck the "Display Root Window" option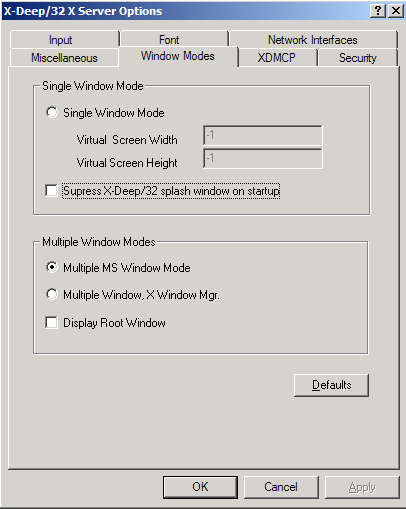 Next, select the "XDMCP" tab and uncheck the "X-Deep/32 Local XDM Chooser" option.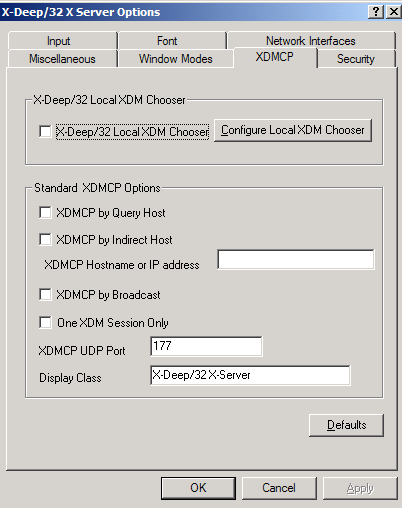 Configuration changes are now complete. Click "OK." X-Deep/32 will ask to restart the server. When running, a small icon will be displayed in the taskbar:

Step Three: Configuring PuTTY
To run X11 applications remotely, you actually tunnel the X11 calls through SSH using PuTTY. Be default, PuTTY does not allow X11 forwarding. We provide a suitable set of registry entries that enable X11 forwarding for both Solaris (Zeus) and Linux. The required files and information can be found
here.
If you already have PuTTY installed, the following options need to be changed.
Note: You do not need to do this step if you install the registry information provided above.
Under Connection -> SSH -> Tunnels, check the "Enable X11 forwarding" option and ensure that "X display location" is set to localhost:0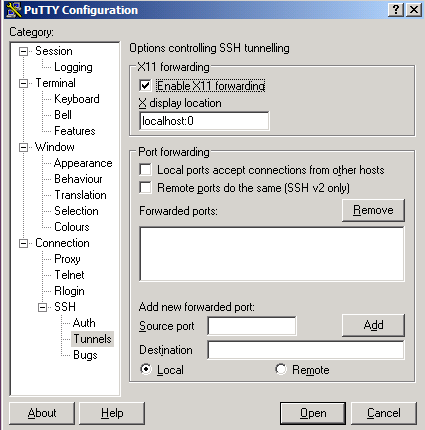 Step Four: Testing PuTTY and X-Deep/32
With the X-Server running in the background, you should now be able to launch PuTTY, connect to Linux or Unix and run X11 applications. A good test would be to select the "Solaris (Zeus)" session in putty. After logging in, type xterm at the prompt.
If you see an error:
X connection to localhost:10.0 broken (explicit kill or server shutdown).
Check to make sure that the X-Server is running and that you correctly enabled X11 forwarding in PuTTY.
If all went well, you should see the following: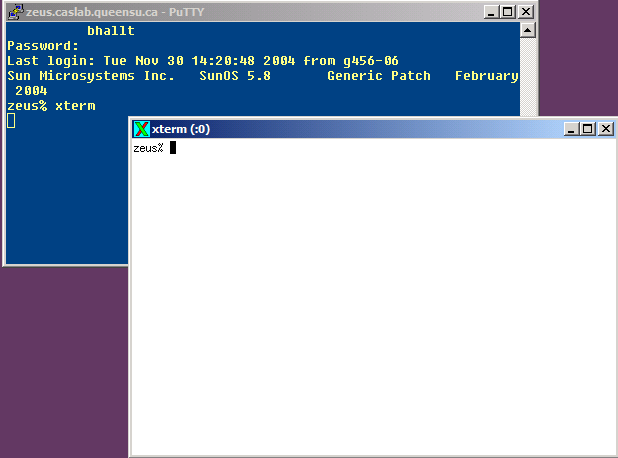 Congratulations, you can now run remote X11 applications. This means that Maple, Jape, NuSMV and more can all be run from the comfort of your own home.